Shortening a large number of links simultaneously in ShortenWorld is made easy through bulk link shortening. To do this, you'll need to prepare a CSV, xlsx or txt file based on our provided template and upload it into ShortenWorld.
To shorten links in bulk: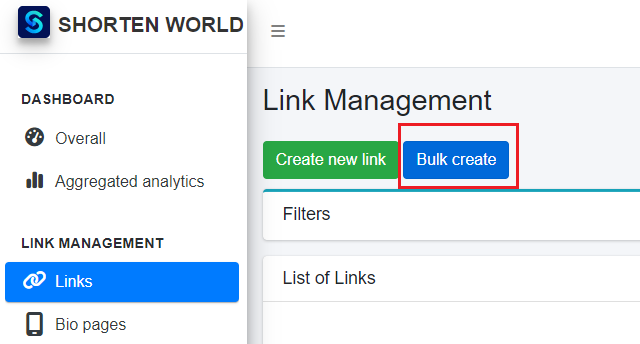 Sign in to your ShortenWorld account.
Click on 'Links' in the 'Link Management'.
Click 'Bulk create'
You can either paste a list of links or choose to upload a file. Download our template file in .csv, .xlsx, or .txt formats. This template will serve as a guide for all your uploads.
Pay attention to the column names in the file; they are the labels used by ShortenWorld to identify the fields for the URLs you want to shorten, and optionally, for any custom back-half you wish to use.
You can either paste your list of links into the template file or modify your existing file to include columns with the same names as the template.
If you won't be using custom back-halves, tags, or titles, delete the placeholders in those fields, but keep the column headers. ShortenWorld will generate a random set of characters if no back-halves are provided.
Save the file on your computer.
Return to ShortenWorld and click 'Select a File' in the bulk shortening window. Choose the file you've prepared.
Choose the domain you'd like to use for the short links.
Click 'Create.'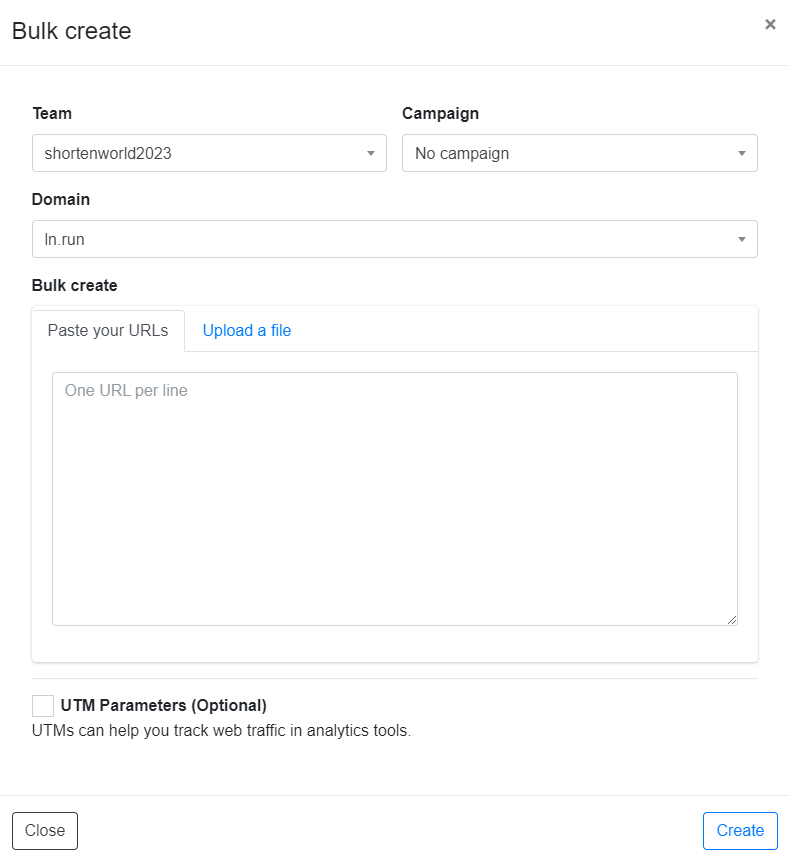 Keep an eye on your email inbox for updates on your upload. The processing time depends on the file's size and may range from minutes to hours.
Once the processing is complete, click the link provided in the email to view your new shortened links in ShortenWorld.
If you receive an email indicating any issues with your upload, make the necessary corrections and follow the steps above to retry. For troubleshooting guidance, please refer to 'How do I troubleshoot bulk upload errors?'
You can also monitor the status of your upload and download the results from your account settings. Refer to 'How do I check the status of a bulk shortening CSV file?' for instructions."