If you have a ShortenWorld account, you have the ability to make changes to your links effortlessly. For most links, you can perform the following actions:
Modify a link's title
Customize a link's back-half (available with a paid subscription)
Add or remove tags from a link
Include a link in your Link-in-bio page or a Campaign
Adjust mobile behavior settings (if your custom domain supports mobile deep linking)
With a paid subscription, you can also manage link redirection and QR Codes.
Please note that links that are auto-branded cannot be edited.
To edit a link in ShortenWorld, follow these steps: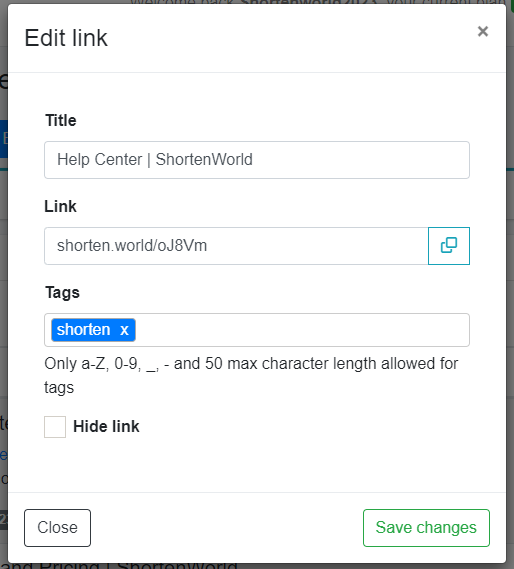 Log in to your ShortenWorld account.
Navigate to the "Links" section on the left sidebar.
Select the link you wish to edit. If you have a large number of links, you can use the search or filter options to locate the specific link you want to modify.
You'll find several options available to you:
In the "Edit link" section, you can edit or add a title, customize the back-half of the link, or choose to hide the link.
In the "Tags" section, you can add, create, or remove tags to help organize your links efficiently.
Add the link to your Bitly Link-in-bio page (be sure to visit the Link-in-bio section of your account and activate the link).
Add the link to a Campaign.
If the link uses your custom domain and your domain supports mobile deep linking, you can manage mobile behavior settings.
Finally, remember to save your changes by clicking the "Save" button.
ShortenWorld provides you with the flexibility to adjust and manage your links to suit your specific needs, making link management a seamless process.